A bean bag chair is also known as a Sacco chair and was invented by three designers of Italian origin. This chair is an epitome of advanced furniture design as it provides the utmost comfort to the users and above all is very lightweight, easy to handle and carry around.
Once you get this for yourself, you will never have to pull around a heavy wooden chair again. A  Sacco chair or a bean bag chair uses soft, small synthetic balls as its filling material which provides the user the ultimate comfort.
Interestingly enough, the chair takes the shape that is set by the user. Before you go and get one of these chairs for yourself, get the proper and utilitarian Bean bag chair safety tips from the beanbagsexpert.
What are some of the advantage of a bean bag chair?
A bean bag chair is an innovative, versatile design when it comes to advanced and comfortable furniture pieces. This chair comes with several benefits, some of which can be defined in the following manner:
•    Easy to clean: A traditional chair has an intricate design with details, nooks, and corners which can be a challenge to clean, but with a bean bag, cleaning and wiping away dirt gets very easy because of its simple and straightforward design.
Also, it is important to note that you can easily remove the inner bag containing the fillings and place it into a new covering of different colors according to your preferences and your chair will be as good as new.
•    Easy to handle: Moving and dragging around heavy chairs can be a headache, especially on the stairs. One can also hurt himself, but this impediment will vanish with a bean bag chair as it is light weighted and can be carried even by a child.
•    Unbreakable: Simple wooden chairs may break or fall apart in case of collisions or impacts; however you do not have to worry about this problem with a Sacco chair as it is squishy and will not bear cracks or breakage. Make sure you get the correct Bean bag chair safety tips before making your purchase.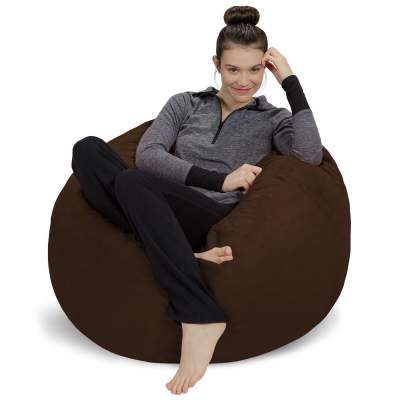 What are the disadvantages of a bean bag chair?
There can be different health problems with continuous and prolonged usage of bean bag chairs such as back and neck problems as a bean bag chair does not provide any support or stability to the spine or the bottom of the user.
Also, the legs of the person sitting in a bean bag chair are not correctly supported, and there is no place to rest it upon. This can lead to muscular pain in the legs and foot. In addition to that, there is no armrest and hence no support to the hands of the person sitting.
 So, before exploring your furniture choices and getting a Sacco chair, get reliable Bean bag chair safety tips online.